Shapely Figures is a UK brand with a large size range. You'll find them in online/catalog stores like SimplyBe. They have a wide selection of styles: balconettes, Tshirt, plunge, and quite a few wireless options. I've tried several styles in different sizes over the last few years, enough to get a good sense of the brand, and some factors have held true across the board for me. I wanted to give an overview for anyone who has wondered whether the extra trouble of ordering from the UK is worth it.
Some examples of the styles you'll find:
Wireless -
the one on the right is what I'm wearing below: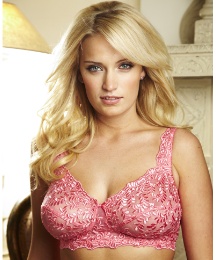 Standard balconettes & full cups: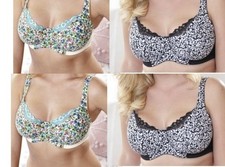 The Fit
I have found this to be true across all the styles: the cups run large and the bands run small. They do not do double letters, so for instance, a G-cup fits me more like a large GG. The cups also tend to run tall in the wired styles, and the wires are closer to Panache height than Curvy Kate. The bands run a full size small.
The Good
Large size range

Huge array of colors and patterns

Different seam structures that will suit different shapes

Lots of wirefree options that give decent support

2-packs (when on sale) are a decent value
The Bad
Cheap, scratchy materials: lace not especially soft

Wirefree styles I have tried give a pointy shape

Wired styles have tall cups/high wires, which negates having different seam shape options, since the cups will still only suit a particular shape

Finishing quality is not great: elastic edges in band aren't covered well; straps are roughly joined so edges are bulky.

The price does not reflect the lower quality of the materials. If not on sale, it's not a bargain
When Do I Wear Them?
Unfortunately, none of the styles I've tried have been comfy enough to be in rotation. If you suit their cup shape, and don't have sensitive skin, then you will find a huge array of options and colors and much to like in the brand - when it is on sale.
My size in the brand: 40F