I really wanted to subtitle this post 'In Which My Wire-free Dreams are Crushed To Dust - Again'...but I ran out of space.
I had high hopes for this one. Cake is a maternity brand from Australia and they do lots of small-to-regular band sizes, and large cup sizes. They also have great names, all based on confections. The Sugar Candy is the only non-maternity bra they make. Based on the photos, which are helpfully shown on an actual curvy, full-busted model, I thought it really might work.
(Hint: keep your eye on the shoulder/strap area. No digging, no hint of problems, right?)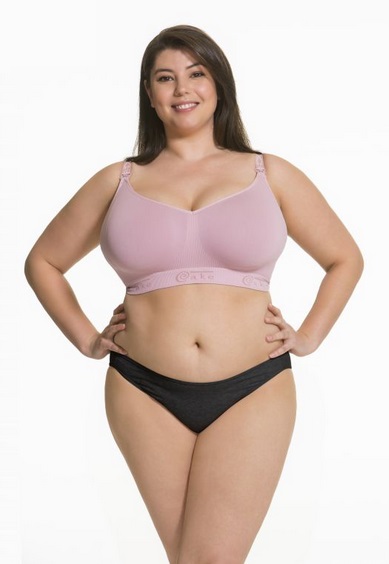 Structure
It is a lot like the usual comfort/leisure Bali-esque bralette, but with a good deal more structure. True, it is a stretchy nylon/microfiber fabric without actual cups. But - the fabric is thicker, and the interior has a sling/shelf made of soft padded fabric, so it is far more substantial and supportive than the usual stretchy leisure bra.
The sling seems like it would be a great way to add lift and support, without wires.
And you would expect that it would give a rounded shape...but you would be so very wrong.
Shape & Fit
Here is how the Sugar Candy looks on me. For reference, I am similar in size to the model above, perhaps a 1/2 cup larger. But likely not similar in shape.
Yeahhhh, that sling is doing my boobs no favors. It is reminiscent of the boob-in-a-bag shape I achieved with the Breast Nest though certainly less extreme. I imagine in order for the sling/shelf to give the nice round-mound shape the model is getting, you would need to have wider, far less projected boobs than I do.
Some angles look a bit better.
And if the bra were actually comfy, this would not be a deal breaker.
Although the profile view is pretty lackluster, it's not actually downward drooping...much.
And at least the sides are nice and low, while still being substantial and supportive.
Comfort
Ah, here we are. Now we are in deal breaker country.
Straps. i.e., Are you f**king kidding me?! They are appalling. Just regular, on the thin side, bra straps. They are not restricted stretch and they are a rough fabric that I imagine is meant to be grippy, but just feels like sandpaper. But they are in no way equipped to deal with the weight of actual boobs. The digging in was immediate - and actually immediately painful.
Note: my shoulders are not super-fleshy; they're broad, a little bony at the edges, and have a fair amount of muscle on the tops. I hate to think how these straps would feel on softer, fleshy shoulders. Pretty much like dental floss cutting through your skin, I would think, based on how they feel on mine. None of the pics I have seen of this bra show even a hint of digging, & I'm not sure how that's possible.
The straps are correctly adjusted - neither too tight, nor too loose.
The band of the bra is the correct size for me: snug and sitting properly horizontal around my back.
I cannot emphasize enough how awful these straps are.
They are far beyond mere discomfort, such as a Curvy Kate strap with sharp edges, that, if determined, you can semi-ignore.
They actually hurt. The harsh texture, but most especially, the cutting in.
This pic of my shoulder was taken after having the Sugar Candy on my body for less than 5 minutes.
When Do I Wear It?
This one makes me sad as I had hoped it would be a real option for an everyday bra. But there is just no way. For this price point of $60 I would expect better engineering along with the nice cup fabric. There is a real need for this type of bra in large cup sizes and it is a complete gap in the market. To be fair, if you have skin that is not at all sensitive, and you are a small(ish) cup size, say, an E or F, and you have a shallow shape, perhaps this would be a great option...? I don't know.
I am coming to the conclusion that something better than the Bali Comfort Revolution Wirefree simply may not exist. Recently, I was slightly alarmed when I went to buy another. There is a new version with foam-lined cups and it is not big boob friendly. The foam does not stretch and so reduces the cup capacity drastically. I am now going to stockpile the original version since the minor quibble I have with the strap seems even more minor now, by comparison.
Size: XL per the size chart, fits 36H-38GG, which is quite accurate.
For this style, the sizing is much more specific than the usual, which is great. Sizing tops out at an XXL (38H-42G) and begins at XS (30F-GG)